Skip Navigation
Website Accessibility
Our Story
Kristen and Paul met in Zanzibar where she managed the hotel and he and his business partner owned and operated a dive center. Paul and Kristen lived in Zanzibar for over 9 years together before moving back to the U.S. where Kristen could be closer to her family and Paul could pursue his dream of owning and operating his own dive shop. Kristen and Paul both speak Swahili (although Paul is fluent) and plan on visiting Africa as much as possible in the years to come!
Paul and Kristen love to travel and have been to South Africa to dive with the Great White Sharks, Mozambique to dive with Manta Rays, Antarctica diving and Belize to see the Whale Sharks on their honeymoon. Paul and Kristen have also been on Tanzanian and Kenyan safaris, to Egypt for the pyramids and down the Nile on a river cruise, throughout England and into Paris, France together. They are eager to share their experience and knowledge about the destinations they have been to so please stop by the shop and say hello!
Paul
Paul was born in Bristol, England. As an only child, Paul's parents dragged him (kicking and screaming of course) from one continent to another and throughout Europe on their family holidays. His favorite place was Africa and after graduating from Bristol Grammar School he flew to Tanzania where he lived and worked on the side of Mount Kilimanjaro in a village close to Moshi, as an English teacher for a British charity – similar to the Peace Corp. When Paul's parents came to visit him they took him to Zanzibar where he fell in love with the island and the diving. Soon after leaving Moshi Paul returned to England where he completed his University degree with a BA(Hons) Business Management and Sport Science. After graduating Paul returned to Zanzibar where he expanded his horizons in the world of diving firstly managing then as part owner of what became the top PADI Center in East Africa.

Pauls Passion is Underwater Photography and he loves to talk about it as well as do it. If you are interested in the subject as a beginner or Pro he would love to discuss it with you.

PADI MASTER SCUBA DIVER TRAINER: Specialist in Digital Underwater Photography, Wreck, Night, Navigation, Search and Recovery, Underwater Film Photography, Naturalist, Drift, Multi-level and computer diver, Oxygen First Aid, Enriched Air, Dry Suit, Deep, Equipment Specialist, Boat, AWARE fish Identification, Coral Reef Conservation, Peak Performance Buoyancy.
TDI Extended range instructor, BSAC Advanced Instructor,
IAHD (International Association of Handicapped Divers) Instructor

Read Paul's Guide to Digital Underwater Photography!
Kristen
Kristen was born in Brunswick, Maine but has lived a good portion of her life in Florida. After attending the University of Southern Maine Kristen took a job as a nanny in Graz, Austria so she could travel throughout Europe on her time off. After living in Europe for a year she returned home and moved to Orlando, Florida. Kristen's professional background is that of hospitality management in Hotel/Resort Operations. While working in Orlando, where she had been for over 7 years, she was contacted about a job in Zanzibar, Tanzania, Africa. As opportunities to work and live in Africa do not come along everyday she jumped at the chance to experience a new country, culture and lifestyle. Kristen enjoys recreational diving with over 14 years of diving in places such as Zanzibar, Mozambique, Belize, Komodo, Bali, Fiji, Dominica and Honduras.

PADI ADVANCED OPEN WATER DIVER: Boat Diver, Navigation, Deep Diver, Night Diver, Drift Diver , Under Water Photography, AWARE Fish Identification.
Gwen
Originally from France ( Brittany), his first breaths on SCUBA were at 24 years old. He completed his Open Water on vacation in Thailand. He fell in love with scuba diving and decide to do an internship in Greece to become professional. Since then he has been working as an instructor in Vietnam, Corsica, San Salvador, Mexico.. As a PADI IDC Staff Instructor for over 11 years it has been his continued privilege to share the underwater world with others through SCUBA diving.

PADI COURSE DIRECTOR, CMAS *instructor, Raid instructor, IANTD Full Cave Diver, EFR Instructor Trainer Care for Children w/AED , Sidemount, DSMB, Wreck, Night, Navigation, Search and Recovery, Drift, Enriched Air, Deep, AWARE Coral Reef Conservation, Project AWARE Instructor, Peak Performance buoyancy.
Kerry
Originally from the Midwest his first breaths on SCUBA were at the young age of 10 years old. Summers spent immersed in Rivers, Quarries and the Great Lakes led to an interest in wreck diving and the opportunity to work on several marine archaeology education projects in the US and the Caribbean. Although lucky enough to have dove in many beautiful locations globally he has never lost the wonder and enjoyment of just being under water and blowing bubbles. As a PADI instructor for over 15 years it has been his continued privilege to share the underwater world with others through SCUBA diving.

PADI MASTER SCUBA DIVER TRAINER: Care for Children w/AED Instructor, Dry Suit, Wreck, Night, Navigation, Search and Recovery, Underwater Photography, Underwater Videography, Drift, Enriched Air, Deep, Boat, AWARE Coral Reef Conservation, Project AWARE Instructor, Peak Performance Buoyancy, EFR Instructor.
Erik
Born and raised in western Canada, Erik grew up exploring the Rocky Mountains in the province of
Alberta and it was there that his love for the outdoors started. After moving to Florida in 2015, Erik took his passion for the outdoors and for wildlife to the next level by becoming an alligator wrestler at the theme park Gatorland. In the summer of 2017 Erik got his open water certification in the chilly pacific waters of the coast of British Columbia, Canada. At which point he was instantly addicted to the sport of scuba diving. From there he continued to further his diving education and is now a PADI open water instructor along with being the assistant manager here at Seminole Scuba.
When not diving, or being tortured by Paul in the shop, Erik is likely to be found working on his filmmaking pursuits with his wildlife film series titled "THE WILD HERO." He has hopes to use his filmmaking to inspire the inner conservationist within us all to help protect the wild realms we love to explore such as the reefs and other aquatic environments where we dive. See his work at www.thewildhero.com.
Erik invites you to join the dive addicts club here at Seminole Scuba which he currently leads and join him on some unforgettable adventures and help preserve the watery world so important to diving and to the planet.


PADI Open Water Scuba Instructor: Peak Performance Buoyancy, Fish ID, Underwater Photography, Drysuit, Nitrox, Emergency First Response, Oxygen Provider Instructor. But his favorite specialties to teach are the Project Aware Specialties such as Dive Against Debris.
Karen
Karen was born in Pennsylvania, moved to Florida several years ago and has no intention of moving back. She enjoys traveling and when possible incorporating diving into that travel. She wanted to learn to dive most of her life and after planning a trip to Hawaii in 2003, decided it was time to get certified. She was trained here in Florida, added more certifications, became a NAUI instructor, and then crossed over to become a PADI instructor.

PADI Master Scuba Dive Trainer, NAUI INSTRUCTOR: Fish Identification, Boat, Enriched Air, Underwater Navigation, Peak Performance Buoyancy, Project Aware, Aware Coral Reef Conservation.
EFR Instructor
Sam
Born in Thailand, but raised in various parts of the chaotic world, Sam found sanctuary in
the silence of the aquatic realms. Whether it was glacial lakes in Maine, kelp forests in California or beaches in Florida, she always found a way to be in the water. So, it came as no surprise when scuba quickly became an obsession in 2018.
Sam currently works as a PADI Master Scuba Diver Trainer and assistant manager at Seminole Scuba. Her passion is to mold students into environmentally conscience, safe and knowledgeable scuba divers. Although certified to conduct various courses, Sam has a special interest in conducting PADI Peak Performance Buoyancy courses, where she helps students find composure and neutral buoyancy under water.
Sam also enjoys "staring at wet rocks" as a certified NSS-CDS and TDI cave diver. You can often find her at her favorite dive site in Florida - The Devil's System at Ginnie Springs.
When not teaching or at the shop, Sam also works as a veterinary technician treating various species of animals in the central Florida area. At home, she has a menagerie of special-needs animals including four dogs, a cat, two horses, a chicken, several snakes and two monitor lizards.
PADI courses offered by Sam: Open Water, Advanced Open Water, Rescue with EFR, Divemaster, Peak Performance Buoyancy, Project Aware, Aware Coral Reef Conservation, Enriched Air, Dry Suit, Fish Identification, Night Diver, and Underwater Naturalist
Melissa
Melissa is an IDC Staff Instructor here at Seminole Scuba. She has 25 years of teaching experience in private and public school settings as well as a creating and leading professional development for education professionals. She was born and raised in the Central Florida area. She attended Boston University for her undergraduate degree and then UCF for her Master's Degree and her Ed.S. Degree. One thing that was missing from her current role was the day-to-day teaching. Combining her passion for scuba and being able to introduce people to this amazing part of our planet was exactly what she dreamed of!
Working with future and new instructors has also been a great source of satisfaction.
PADI IDC Staff Instructor: Wreck, Night, Navigation, Underwater Photography, Drift, Enriched Air, Emergency O2 Provider, Fish ID, Equipment Specialist, AWARE Coral Reef Conservation, Project AWARE Instructor, Peak Performance Buoyancy, EFR Instructor.
OLIVIA
Olivia, born and raised in Florida has always had a love of the water, growing up as a competitive swimmer, surfer and active beach-goer. She got certified at the age of 12, and has been addicted ever since. She enjoys underwater cinematography and photography immensely, and will be ready with her underwater camera or GoPro whenever! Our most senior shop employee, she has worked in the shop for over 4 years, and is ready to help anyone with questions or general advice on the great world of diving! You can also find Olivia dabbling in modeling on our facebook and instagram, which is also run by her!
Olivia's favorite places to dive are Blue Heron Bridge in West Palm Beach, a fairly shallow dive that is home to some spectacular marine life, as well as any reef in Key Largo. She loves to seek out sharks, and would like to one day free dive with whale sharks.
Renee
In 1988, Renee was PADI Open Water Diver certified in the clear lakes of Arkansas. It soon
became apparent that this was a passion and she began to build towards higher goals. In 1993,
Renee earned her PADI Open Water Scuba Instructor rating and quickly discovered her
passions within the sport as an instructor and in her diving free time.

Renee has held the PADI Master Instructor rating since 1999 and IDC Staff Instructor since
1998. She teaches a variety of PADI specialties to include Night, Deep, Peak Performance
Buoyancy, Enriched Air and Drift Diver. She excels with the PADI Drysuit, Sidemount, Enriched
Air and Cavern Diver specialties as independent courses and also cohesively as part of a progression. Renee is also an NSS-CDS Cavern/Basic Cave Instructor and can teach you to peer safely beyond the caverns that are illuminated by the sun. Renee is a technical diver holding a Full Cave Diver certification with the NSS-CDS and has training in CCR and Trimix.

Renee is the co-author of "Women Underwater" with Jill Heinerth. She loves mentoring divers of all skill levels, the diver who needs extra help overcoming physical challenges, or who desire guidance on their pathway.

Renee continues her 30 year career as a Cat Scan technologist at Florida Hospital South where
she has been since her move to Florida in 2002. When not caring for patients at the hospital or
diving, she may be found in her topside in her sea kayak enjoying the Floridian springs, rivers
and coastal regions.

PADI MASTER SCUBA INSTRUCTOR: Atlantis/Dolphin Rebreather, Underwater Navigation, Night, Enriched Air, AWARE Coral Reef Conservation, Project AWARE Instructor, Peak Performance Buoyancy, Drift, Underwater Naturalist, EFR, PADI Cavern.
NSS-CDS Full cave Instructor, NACD Full Cave, IANTD Trimix, NACD Sidemount, TDI Gas Blending, Prism Topaz Rebreather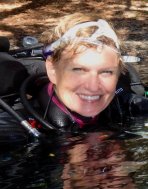 Robert
Robert has been diving since 1967; he has lived in Central Florida for his whole life, so you could call him the local. The Three moons of lost sink, The mushroom table at Little River, and The statue of Christ in Key Largo are just a few of Robert's favorite places to dive.

He became a PADI Open Water Instructor in 2008 because he wanted to give back to the dive community "My parents gave me the wonderful gift of diving and I just wanted to help and teach others the joy of diving."

PADI Master Scuba Diver Trainer: Enriched Air, Underwater Navigator, Wreck Diver, Night Diver, Drift Diver, O2 Provider, Emergency First Responder Instructor, NSS-CDS Basic Cave.
Sarah
Sarah is a Florida native. She is currently a high school science teacher. She has been diving since 2009. Some of her favorite wreck diving is in North Carolina, on a wreck called the Carib Sea. She also enjoys diving in our springs here in Florida. Sarah became an instructor to share her passion with other people through teaching. Her three favorite aquatic creatures are the Florida Manatee, Manta Rays, and Cowfish. Having been lucky enough to dive in other areas of the World is something she treasures. Her trip to Raja Ampat in 2015 with Seminole Scuba was definitely a highlight, but Sarah has dove in Australia and around the Caribbean as well.
PADI Open water instructor, EFR, Enriched Air, Deep, Wreck
Andrew
Andy got hooked on diving in 1999 during graduate school in the UK. This was in spite of his open-water checkout dives being at the rather cold and forbidding Stoney Cove quarry. A dive trip to Dahab on the Red Sea coast of Egypt more than made up for that! After some shore diving around the UK, in June 2000 Andy moved to Iceland to work at the University of Iceland, which gave him the opportunity to dive the Sylfra fissure and the Strytan thermal chimney. After relocating to Michigan in September 2007, Andy started diving the wrecks of the Great Lakes and Isle Royale. Exploring further afield, experiencing the WW2 wrecks and sand tiger sharks of the North Carolina Outer Banks, drift diving off Cozumel, interacting with the amazing aquatic life of the California Channel Islands, and swimming with giant mantas around the Isla Revillagigedo, Mexico, all opened his eyes to the variety of diving in the Americas. In 2018 Andy left his faculty position at University of Michigan and relocated to Florida to focus on diving. Since then he's dived many of the coastal wrecks and reefs as well as many of the freshwater springs, falling in love with cave diving, both here in Florida and Mexico. In addition to being a certified cave diver, Andy is certified to dive both the Poseidon and XCCR closed-circuit rebreathers.

Andy has been a PADI Scuba Instructor since 2013 and he teaches a variety of PADI specialties including: Drysuit Diver, Deep Diver, Wreck Diver, Ice Diver, Night Diver, Search& Recovery, Enriched Air, and Peak Performance Buoyancy.
Josh
Josh is a native Floridian, born and raised in Orlando, and is currently attending the University of Central Florida pursuing a degree in Electrical Engineering. He began diving at the age of 15 and started at Seminole Scuba in the summer of 2015 as a Divemaster and shop employee. He has had the opportunity to dive many of Florida's most exciting sites ranging from its famous freshwater springs to the spectacular reefs and wrecks of West Palm Beach, Fort Lauderdale and the Florida Keys.
Josh's favorite places to dive are at the Blue Heron Bridge in West Palm Beach, a fairly shallow dive that it is home to some spectacular marine life such as Batfish, Seahorses, Spotted Eagle Rays and Octopi making it a fun and easy dive for everyone, and the Spiegel Grove off of Key Largo, a U.S. Navy Dock Landing Ship that was sunk as part of an artificial reef project in 2002. He says that his passion for diving stems from a joint interest in photography and exploration of a world that few get to enjoy.
Dave
Dave grew up in South Florida becoming a PADI Open Water Diver in 1989. Living in Northern California, Texas and then Chicago while divign around the world he became a Divemaster in Chicago and caught the bug for teaching so continued on to Instructor in the cold waters of Illinois. After spending some time back in Texas teaching he landed in Orlando and with us at Seminole Scuba and is loving the clear warm waters of Florida and the amazing dive adventures so close. The opportunity to share his diving passion with students and teaching them to make the most of their dive experience in the safest way possible is why he does it.


Some of his favorite places to dive are The Florida Keys, Cozumel, areas of Central America and a true love of the Asia Pacific area. Dave has a passion for cool wrecks, exploring the history of ships that once were and the sea life that inhabit them now. Dave is also a certified Missie Silo Diver

PADI Open Water Scuba Instructor: Wreck, Nitrox, Project Aware, Emergency First Response, Oxygen Provider Instructor.
William
Will grew up in New Smyrna Beach, FL spending most of my early life on boats or in the ocean. Working at my Grandfathers fish restaurant in my teenage years. Later in life decided while working at a minting company running a fiber laser for die creation that an office job was no longer suiting for my lifestyle. A couple years later and some serious patience an opening at Sea World became available as an aquarium diver. Then I moved to Oviedo, FL with my family and 9 Months later I moved up to water quality diver and decided that was not enough, I wanted to spread my passion for diving and in the summer of 2019 became a PADI Instructor.

PADI IDC Staff Instructor: Wreck, Deep, Enriched air, Search & Recovery, Drift, Full Face, Night Instructor