Skip Navigation
Website Accessibility
PADI Course Director Gwen Grellier
He teaches the PADI IDC (Instructor Course) in English and French. He has a passion for instructing divers and has a lot of experience to share.
Gwen is from Britany, France. He has started his professional career 15 years ago in Greece, where he completed his Divemaster internship. He then traveled to Corsica, France to become an Instructor. In order to expand his experience and grow his career, he decided to learn more about cave diving and went to Mexico to become Full Cave Diver. He has been exploring the underwater world in Spain, Vietnam, Dominican Republic, France, Thailand, Belgium, Mexico, Canary Islands, Croatia, and across the United States... he has taught hundreds of courses in the process.
"To be part of the Dive Professional Community is something! Some days you teach or guide on the boat, some you are helping customers in the shop. Each day is something different and exciting."
Today Gwen is a Course Director working for the best 5 Star IDC Dive Center in Central Florida. Gwen believes that working at Seminole Scuba has such an enriching opportunity. It has been opportunity for him to share his passion for the profession and pass that on to divers eager to become dive professionals.
The education at Seminole Scuba is unparalleled. We offer training in several languages, with a vast amount of experience to share with our candidates. To become a PADI Divemaster or Instructor is a big step in a diver's development and there is no doubt that at Seminole Scuba we make sure each step is being done in the proper way.
There are dive professionals trained by Seminole Scuba working across the globe. We know that our passion and reach is extensive and take such pride in knowing the untold numbers of divers enjoying the underwater world started right here, in Lake Mary, Florida.
TESTIMONIALS
Ross Bolhken

Gwen was my Course Director from Divemaster through

Master Scuba Diver Trainer

. He's extremely professional and knows what it takes to be a successful

PADI instructor

. He's not the kind of Course director that spoon feeds you the answers, but gives you small suggestions so that you yourself can arrive at the correct solution. One thing he instilled my class from the beginning is that not everything goes according to plan and that you need to be flexible. Gwen is an excellent Course director who I would recommend to anyone looking to further their knowledge or looking to enter into the professional world of diving.

Melissa Nycz

I've just completed my
Divemaster and IDC
with Gwen at Seminole Scuba.
When you complete your training with Gwen you are not only a much better diver for it, but you are truly prepared to teach the ART of Scuba. He was relentless in instilling real world teaching and techniques. He did not approach the IDC as a way to pass the IE, but rather the fine details of what it takes to instruct new and developing student divers. He pushed me to be better, never letting "good enough" be enough. As an administrator in public education, one of the things that stands out for me in working with Gwen, is that he is also a student. He imparts his vast knowledge of diving, but still continues his own growth. During one of my workshops he complemented by presentation and said he learned a new strategy from me. This is what it takes to be a leader, a knowledgeable and yet growth oriented individual with a passion for his craft.

Brian Atmadjaja

IDC July 2020 + MSDT Prep
Gwen is really determined, disciplined yet patient when it comes to teaching. With his thorough teaching, I was prepared to overcome any problem. He breaks down harder questions into simple analogies that will stick in your head for a long time. Concepts became way simpler. One particular thing that helped me during the Instructor Exam is basically "What would Gwen do to teach and solve this skill?" I put myself in his shoes and try to think like him. The outcome, I'm a PADI Open Water Scuba Instructor as of today.

Rene Garcia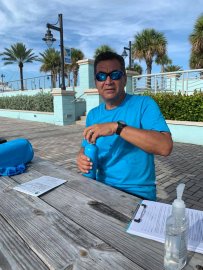 I would like to say that having you as an instructor for my MSDT course was an amazing experience. Your skills and knowledge are exemplary. You made me feel very comfortable giving my dive briefings, and gave me many suggestions on how to keep them organized. You also made it fun for me. If I ever come across anyone who wants more training I will absolutely send them your way. I will be returning for more training with you as soon as i can. I give you 5 stars. Thank you for all you taught me. Dive on !
Lucie P.

Gwen was fantastic, patient, fun approachable and at the same time he wants to make sure that you learn, he is not going to let you pass just because. Gwen took his time to go over what ever I felt unsure about. He tried different techniques to help me to succeed, feel confident and trust myself and the knowledge that I just stuffed in my brain. I personally deeply dislike exams, specially the written ones. But Gwen inspired me in a way that one afternoon after our practice dive I went straight for it without my usual nervousness and I passed with flying colors. I truly hope that I would be able to do my ICD preparation with Gwen, and I recommend hem to anyone who wishes to grow in scuba. Thank you Gwen
Jonathan Napoli
My IDC was in April 2019 From start to finish Gwen help me the whole entire IDC. I had issues with certain parts of the written exam, Gwen never stopped helping. Until I was confident enough and had the right knowledge to pass that part of the exam. also he had spent a lot of time prepared me for being an instructor and making sure all my underwater skills were perfect. I very much enjoyed my IDC and would highly recommend using Gwen for there IDC, last I would like to thank Gwen for all he did.
Joseph Walker

Weeks before my IDC started Gwen prepared a schedule with the outline of what we were going to do each hour and what homework we would have to look at in advance. As someone who uses a schedule every single day and likes to prepare ahead, this is very helpful. The classroom setting was great and we even had great hand-ground coffee. It was really good coffee by the way. The best part was that whenever I asked for an explanation it wouldn't just be an audible one. Gwen would go out of his way to get a whiteboard and marker and explain by visuals how it works. Every single person knows what it's like to listen to a lecture for two hours straight and not understand how you went from point A to B. Gwen knows this, he will sit down for as long as you need to figure it out and show you visually. If he saw that we needed some extra help in one section over the other he would change the schedule accordingly and even stay late with us. If we asked for more practice exams, practice preservatives, and etc: he would go out of his way to find us more material and to help us study for our I.E. Luckily on the representatives we went over a wide variety of open water to rescue. So when it came to the representatives on the I.E. we already had a great deal of knowledge on how to connect it to a course and how to involve equipment. I can be here all day writing over and over of everything he did for us but that would take a while to put into perspective of what he did for us. When I started my Instructor Development Course I was very nervous about my Instructor Exam, just like anyone. It did not occur to me that Gwen was giving us more assignments and more work just to prepare us for the "normal exam". He prepared us for an I.E. that would be like a walk in the park. That's honestly how it felt going through it. When my fellow IDC candidate and myself came to the I.E. it was like us walking up and dropping the pen on the table. That is how it felt to us. We knew everything and passed with flying colors. When I look back at it, I highly recommend Gwen Grellier as your course director. He works his butt off and gets stuff DONE.