The Maldives October 2021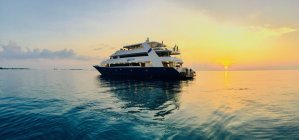 Take the next Adventure with us to The Maldives aboard the Blue Voyager. This incredible Liveaboard will
be our home for 10 days of exploration around the central Atolls of The Maldives.
The Blue Voyager is a stunning boat with a fantastic crew. All rooms have Ensuite bathrooms and AC. The dive deck makes diving very easy for all levels of diver. The Crew will help you in and out of the water along with dealing with all your equipment so you can relax and enjoy. There are 5 meals a day all prepared fresh on the boat by the chef so no one will go hungry... Even Paul!
With 30+ dives available to everyone you will get a chance to really explore the amazing Atolls and Marine life of the Maldives. We will hope for Manta Rays, Whale Sharks, Oceanic Sharks, along with the amazing reef fish and
macro life that is available. The Maldives is known for its great visibility and remote atolls not touched by man. Some dives will be drifts but the conditions are normally fantastic making diving easy for all levels and perfect for photographers.
We plan to have an extension available before in a land resort which will be an optional extra!
For more info on this adventure or others please come into the shop or call us on 407-333-8856
SOLD OUT
PLEASE LET US KNOW IF YOU WANT TO BE ADDED TO A WAITING LIST