AFRICA TRIP NOVEMBER 2017
Our Africa trips never cease to amaze with the incredible sites and sounds of East Africa. This one was no different. We started with a few days in Nairobi staying at the fantastic Giraffe Manor which was an incredible experience, whilst we sat there having afternoon tea with lots of Giraffes and warthogs. Breakfast at the Manor is lots of fun as long as the Giraffes get to eat too.
From Giraffe Manor we also visited the David Sheldrake Wildlife Trust, which is an amazing foundation looking after and rehabilitating orphaned elephants and rhinos that have mainly be orphaned by poaching for Ivory. The ability to support this organization is one of the reasons we do these trips.
The main safari started with a flight to Ol Pejeta reserve in the North of Kenya at the foot of Mt Kenya itself. This was a fantastic park with lots of wildlife and is an excellent place to see Rhino. We were very fortunate to see 16 Rhino in 1 day which in many years of safari I have never experienced before. We also saw lots of Elephants, Hyena, Buffalo, Steinbok and Eland. The Porini Rhino camp was outstanding with Elephants, Zebra, lions and buffalo walking through the camp at night.
We then moved onto the Porini Lion Camp in the Masaai Mara which Kristen and I have been to before and loved. This time was possibly even better. The Mara is known for its cats and we were very lucky with hundreds of lions, 3 leopards and lots of Cheetahs as well. We saw Lions on a kill as well which is always impressive, as well as Cheetah hunting (failing!!!) warthogs and gazelle. As part of the trip in the Mara we did a 6 mile hike through the bush with our Masaai guides which was an experience for all being out in the wild plains of Africa with very little protection.
After the Safari we headed to Kristen and my old home of Zanzibar. We stayed at the beautiful Breezes Beach Club and Spa for 7 nights where we were able to do some great diving on the stunning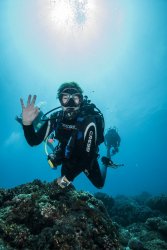 reefs of Zanzibar. The diving with Rising Sun Dive Center was outstanding and the group saw turtles, rays, dolphins, barracuda, jacks, frogfish, nudibranchs and many other marine animals. The night dive was an excellent experience with tons of Moray eels out hunting as well as the partner shrimp and octopus.
Thanks to everyone that joined us on this trip and we hope you will all join us again and that your will go back to Africa again soon. For more images you can see
Pauls Africa 2017 album